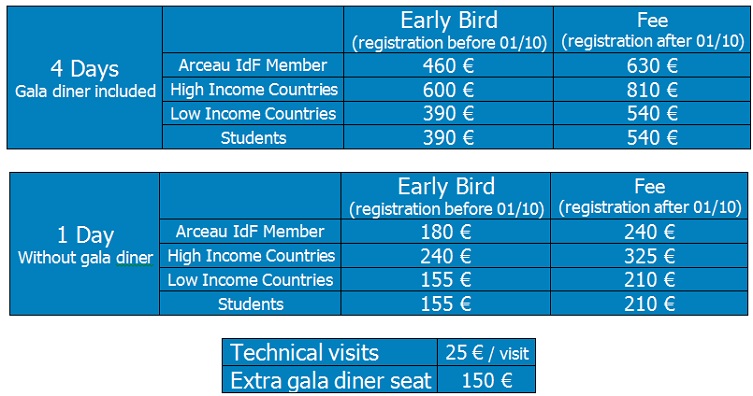 To benefit from Member fee


Payment information

The association ARCEAU IdF is not submitted to VAT.
Payment must be made in euros (€).

Any bank transfer fees and charge are the responsibility of the delegate.

A documentary evidence is asked to benefit student fee.
Be careful: your registration will be definitely taken into account only at the reception of the payment of registration fees.
Conditions of cancellation
Any cancellation has to be made in writing to geraldine.izambart@arceau-idf.fr. It will be counted for any received cancellation:
before October 31th : refund of the amount of the registration
between October 31th and November 20th : 50% of the amount of the registration
after November 20th : 100%

of the amount of the registration
Visas

Delegates coming from countries requiring a visa to enter France need to go to the French consulate of their home country and ask for it. Addresses of the French consulates are available online on the website of the Ministère des Affaires étrangères (section « Venir en France »). It is strongly advised to anticipate your visa procedures, because of lengthy administrative procedures. Feel free to contact the conference secretariat by email to get an official document of ARCEAU IDF to facilitate your administrative procedures.